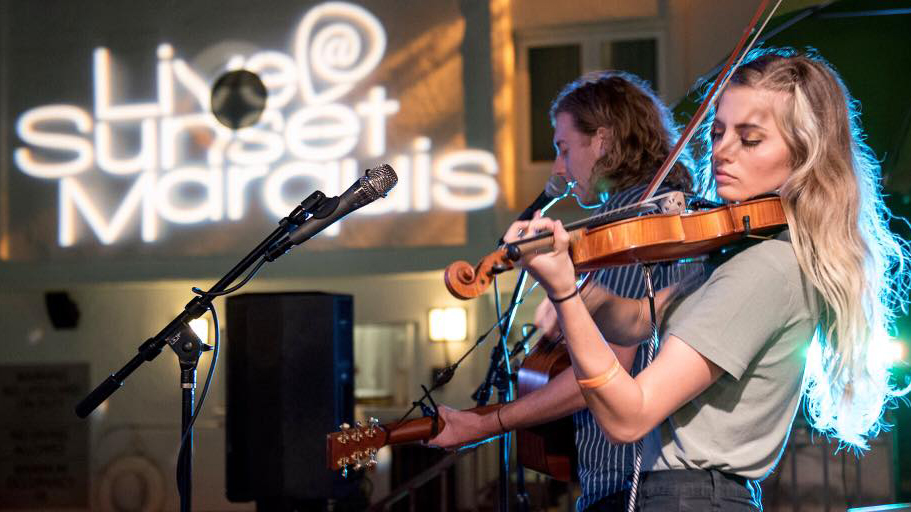 A landmark of hedonism and history, the Sunset Strip remains a musical mecca, dotted with dynamic live concert venues, nightclubs, and bars featuring live music of all stripes. The area is a must visit for music and history lovers alike, featuring a diverse array of rock, pop, soul, and dance sounds, world-renowned and up and coming. This summer, join us as we celebrate the Summer of Love with Summer on Sunset.
Live Clubs
The Viper Room– Formerly owned by Johnny Depp, Viper will probably never live down the death of actor River Phoenix which occurred just outside, but it has come close over the years. It's showcased countless big name rock bands as well as artists who were nobodies and would later go on to be huge. Tom Petty, Smashing Pumpkins, Slipknot, Queens of the Stone Age, Brian Jonestown Massacre and too many jams to mention featuring the likes of Slash, Ace Frehley, Dave Navarro, and on and on. Two infamous LA groups got their start at the Viper Room too: 80s hair metal tribute band Steel Panther and pop group the Pussycat Dolls, who started as a burlesque group before turning into a music act. Today, the bookings remain top-notch.
Whisky a Go Go– The Doors shows here will probably go down as its most infamous rock god gigs, but Led Zepeelin, Alice Cooper, Motely Crue and Guns n' Roses played the club before they were icons too. Though the pay to play bookers took over in the 90s the Whisky has thankfully seen a return to its former glory via its popular Tuesday jam night featuring session players and surprise guests.
The Roxy Theatre– Since they have a relationship with Goldenvoice/AEG The Roxy has the best booking on The Strip right now. Basically if a hot band is coming through town, there is a good chance that this is the room they'll be playing. It also has some of the best sound and sightlines for music lovers in LA, not to mention a good ratio of star sightings for big shows in its elevated VIP area. For example, punk legend Patti Smith's set here last year brought out Morrissey, Tim Robbins, Thurston Moore, Susanna Hoffs, Rosanna Arquette, Jimmy Iovine, and Pharrell. Dance Clubs
Two dance emporiums on the strip deserve your attention both for their exciting atmospheres and their bookings, which sometimes include live music but usually consist of sexy snd wild DJ nights: 1Oak (which used to be the Key Club and was famed metal haunt Gazarri's before that) brings a raucous Vegas vibe to the Strip with bottle service tables, stellar lighting and sound, and a spacious dancefloor. Big name DJs spin on weekends.
Further down the Strip, Bootsy Bellows, provides a slightly more intimate clubbing experience, with DJs and cool vintage vibe (the place was conceived and named after actor Davd Arquette's mom, who was a burlesque dancer in the '40s).
Restaurants/Bars
Drinking and rock & roll go hand in hand on The Strip especially at
Rock & Reilly's and State Social House, both of which offer a bevy of brews and booze and a rollicking atmosphere amped by great rock & roll, especially the latter where retro-themed bands ranging from '90s rock ("Saved By the Band") to 70s jams ("Loud & Live") pack the place.
If you're gonna eat and drink in one musical atmopshere on The Strip, it's gotta be The Rainbow, where posters and photos of rock gods adorn every inch of the eatery's interior as loud rock from the very same stars blasts from the sound system, and you are likely to be chowing down in a booth next to one too. Speaking of rockstars, The Rainbow's patron saint, Lemmy Killmister of Motorhead who used to hang out there, has been part of the place since he passed away too, with a statue in his honor on the patio.
Hotels
The Strip's hotel's provide a one stop shop for getting down or rocking all night followed by resting or crashing conveniently. Most hotels offer live music, in-house nightclubs (we highly recommend The Standard Hollywood's Mmmhmm nightclub, especially on Saturday nights where Giorgio's Disco brings out the chic-est crowd in LA; the Standard also has a poolside music series during every Wednesday called Desert Nights worth checking out).
Other hot hotels for music and dance lovers include: The Sunset Marquis (Live at Sunset music series and the rock-themed Morrison Gallery) and The Mondrian (poolside music curators and top turntablists on weekends at the Sky Bar- see schedule here).
Photo by Alex Huggan